HOW TO WORKOUT WHILE GYMS AND STUDIOS ARE CLOSED
Until further notice, exercise is canceled. Just kidding. Even as gyms and fitness studios shutter to limit the spread of COVID-19, we're prompted to find fun ways to workout at home. Yes, tricep dips on the couch count.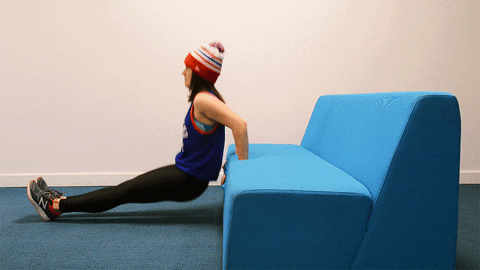 Exercising can make sheltering-in-place easier, improving mood, helping you sleep better, giving you more energy, and reducing stress.
Without a professional trainer or friends to motivate your weekly practice, it can be difficult to find the inspiration - and equipment!- to get a good workout. For the next month, here are the best ways to workout without the gym while still feeling motivated and happy.
Living Room Classes
Recognizing the important role exercise plays in mental health, gyms, trainers, and online fitness services have begun offering free virtual classes for people to enjoy at home. These brands and trainers include 24Hour Fitness, Planet Fitness, DailyBurn, CorePower Yoga, Kayla Itsines' Bikini Body Guide, Yoga with Adriene, Peloton, Katrina Scott and Karena Dawn's Tone It Up, and even Sworkit for kids!
These are only a few of many guided classes being offered free of charge. Take this opportunity to test different exercise methods and new experts. You might discover a practice that makes you feel stronger and calmer than ever before.
Deep Cleaning
Exercise helps us manage stress, but so does cleaning! According to psychologists, spring cleaning reduces anxiety, so why not combine the two?
Set out to clean the tough spots throughout your home that get brushed over during regular cleanings. Like the oven, sofa cushions, and wall detailing. Deep cleaning gets you moving, stretching, hauling, and hustling all over the house. Check your fitness tracker after a deep clean and you might be surprised at the step count.
DM Your Trainer!
Your cat won't push you to do another set of lunges but hey, it's not their job. Reach out directly to your trainer and ask for an at-home workout that will kick butt.
We tend to go easy on ourselves or not realize our true limits so ask an expert. If you don't see a trainer regularly, DM your favorite trainer on Instagram or Facebook asking for advice. If you take group classes, message the studio and ask for resources. If we've learned anything over the past month of social isolation, it's that fitness professionals care about our health and will go the extra mile to see us stay healthy.
Rent Equipment
No treadmill or weights at home? Call your local gym or fitness studio and ask if you can rent equipment.
Plan a time to pick up your equipment. Sanitize the gear. Then clear a corner in your bedroom or office to build a home gym. Think of renting dumbbells, an exercise ball, resistance bands, a mat, and TRX system.
Yard Work
It's about that time of year to clear winter debris and plot your spring garden. There's a reason yard work and gardening makes your back hurt; it's exercise! Bask in the break from CrossFit and powerlifting and get outside for your daily dose of movement.
Fresh air, vitamin D, and clearing the cobwebs combine for a therapeutic and sweaty workout.
Don't worry about getting mulch or plants. Limit your trips out of the house and start by clearing debris.
Refresh Your Closet
Don't feel pressure to maintain a strict exercise regimen. We're experiencing a global pandemic and the less stressing you can do, the stronger your immune system will be. That said, trick yourself into moving around by refreshing your closet for spring.
Dig out spring/summer boxes and pack away bulky parkas and ski pants. You'll end up hauling boxes to and from storage, getting an arm burn by re-hanging clothes.
Every little bit of movement counts toward keeping your blood moving and your body feeling flexible and healthy. Don't discount the small stuff. Allow your mind and body a break from high-intensity exercise if that's what you need.
Loop the Block
If possible, take a walk around the block. Track the distance on a wearable or smartphone app and make a note: whatever the distance, that's 1 lap.
If you're used to working out on a treadmill, it can be difficult to gauge how far you're going outside. Instead of setting out with uncertainty (a negative mindset that can deter a good workout) create a loop you feel comfortable with that passes your home.
Think of the loop as a track and keep circling until you've reached your daily mileage.
Sunshine and fresh air are extra perks!
TV Show Challenge
Ok, this is fun. What TV show are you binge-watching right now? Turn TV time into a fitness game by assigning workouts to reoccurring sayings, songs, or character actions.
Do 10 pushups every time a character cries during a drama. Assign jumping jacks to the credits. Do 20 crunches for every time Monica from Friends is cooking, or Jim from The Office looks at the camera.
Get the idea? If it's a new show, create the rules as you go. Or Google 'tv show workouts' to find pre-made workout rules for popular shows like The Office, Friends, and Modern Family. We never thought we'd say this but turn on the TV!
Support your home workout by rehydrating with clean, functional beverages that boost immunity and keep your body happy.